IMPORTER OF ITALIAN FOOD CULTURE
Welcome to Don Bibbo. We have been importing quality products from Italy since the mid 80s.
We stand for quality, personal service and Italian products. Browse among all our delicious food in the Product Catalog. Read more about our wines and spirits in each of their catalogs.
Please call or send an email with your order.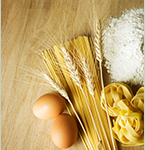 We only work with strong brands. We stand for Italian quality - every single item in our range is quality controlled.
Prenumerera på vårt nyhetsbrev
OUR PHILOSOPHY
Products of the best quality – 100% produced by Italian ingredients.
What sets us apart is our quality. We visit the manufacturers themselves and hand pick our products.
WINE & FOOD IMPORT
We import quality products from all over Italy.
From olive oil to fresh products, from wine to charcuterie. All products in the range are carefully selected for their quality.